Foreign Secretary congratulates new Mexican president
Foreign Secretary William Hague has spoken following the election of Enrique Peña Nieto as the next President of Mexico.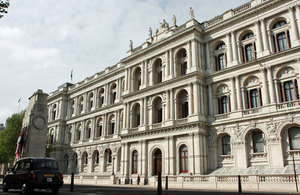 "On behalf of the British Government, I would like to offer my congratulations to Enrique Peña Nieto, who according to preliminary results yesterday won the election to be the next President of Mexico.
"The UK and Mexico have an excellent relationship built on mutual understanding and respect. Since this Government took office we have enhanced bilateral engagement with Mexico, with visits by the Prime Minister and Deputy Prime Minister demonstrating our commitment to the bilateral relationship. We hope to build on this with the new administration and renew our productive exchanges and cooperation on a wide range of bilateral and international issues, including free trade, international security, non-proliferation, climate change, human rights and education.
"We look forward to working with the new President and his administration once he assumes office on 1st December."
Published 2 July 2012