Foreign Secretary congratulates new Head of Libyan National Congress
On Thursday evening , Dr Mohamed Yousef el-Magariaf, was elected as Chairman of the Libyan National Congress, which met for the first time last week following Libya's first democratic elections in 47 years.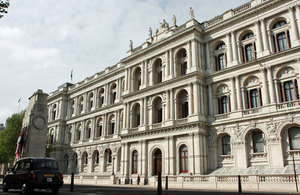 Having met Dr Magariaf during his recent visit to Tripoli, the Foreign Secretary, William Hague, today called the new Chairman of the Congress to discuss Libya's future. Speaking this afternoon, the Foreign Secretary said:
"I congratulate Dr Magariaf on his election as Chairman of the Libyan National Congress. Dr Magariaf has campaigned for many years to bring constitutional democracy to Libya. His appointment is another milestone in realising the hopes of all Libyan people to exercise their right to elect their representatives.
"Speaking with Dr Magariaf today, I reiterated the UK's continued support for the Libyan people. We discussed how the new Libyan Congress will represent the voices of Libyans from all parts of the country and all sections of Libyan society.
"We agreed on the importance of continuing the positive political momentum in the transition process, and to the rapid appointment of a Prime Minister and government. I look forward to developing a fruitful and productive relationship with Dr Magariaf, and the Libyan National Congress, as Libya moves forward to a brighter, more democratic future."
Published 11 August 2012