Foreign Secretary confirms Royal visit to Brazil
HRH Prince Harry will visit Brazil in March, Foreign Secretary William Hague confirmed today.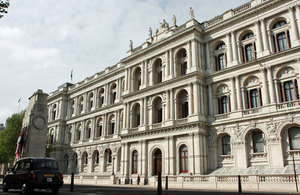 Speaking earlier today alongside Sergio Cabral, Governor of Rio de Janeiro and Mayor of Rio de Janeiro Eduardo Paes he said:
"Brazil and the UK have much in common, with a shared history and close cultural bonds. We are commited to strengthening our political, cultural and economic ties, and it is with this in mind that I am visiting Brazil: my first South American trip as Foreign Secretary.
"I am now pleased to announce that His Royal Highness Prince Harry will also soon be here, and will attend the GREAT campaign launch event in March. We hope that through this renewed and continued engagement with Brazil to show that we in the UK are open for business with the rest of the world and determined to build our relationships."
The GREAT campaign is an invitation to discover and share what makes Britain GREAT in 2012, as it celebrates the Queen's Diamond Jubilee and hosts the greatest sporting event on earth, the Olympics.
The launch is being held in Rio, as the next host of the Olympic and Paralympic Games. The event will be an opportunity for Great Brazilian and British investors, politicians, cultural leaders and celebrities to strengthen their existing connections and build new ones.
Published 19 January 2012