News story
Foreign Secretary condemns the killing of humanitarian worker Khalil Dale
Foreign Secretary William Hague 'utterly condemns' the kidnap and killing of Khalil Dale in Baluchistan province, Pakistan.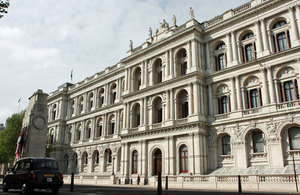 Foreign Secretary William Hague said today:
"I learned with great sadness earlier today of the killing of Khalil Dale by his kidnappers in Baluchistan province, Pakistan. Mr Dale, a British humanitarian worker, was kidnapped in January this year. Since then tireless efforts have been underway to secure his release, and the British Government has worked closely with the Red Cross throughout.
"I utterly condemn the kidnapping and killing of Mr Dale, and send my deepest condolences to his family and loved ones as they come to terms with their tragic and distressing loss. This was a senseless and cruel act, targeting someone whose role was to help the people of Pakistan, and causing immeasurable pain to those who knew Mr Dale. My thoughts are with them, and with all those who have dedicated their lives to assisting the world's most vulnerable people through the Red Cross and Red Crescent Movement."
Published 29 April 2012