Foreign Secretary condemns renewed Israeli settlement activity
Foreign Secretary William Hague has urged the Israeli government to desist from further settlement announcements.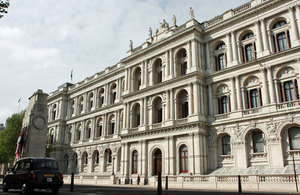 The Israeli Government decided on 4 April to announce further expansion of the illegal Israeli settlement at Har Homa, representing the largest settlement tender in East Jerusalem since March 2010. Foreign Secretary William Hague said:
"I am disappointed to release a statement on renewed Israeli settlement activity. As the Occupying Power of the Palestinian Territories, the Israeli government has an absolute requirement to uphold international law and to fulfill its commitments. It is important that we voice our concerns when the Israeli government fails to do so.
"We and our EU partners are clear: systematic, illegal Israeli settlement activity poses the most significant and live threat to the viability of the two state solution. I condemn the decision to publish tenders for 872 units in the Israeli settlement of Har Homa, across the Green Line in East Jerusalem. The Israeli government's policy is illegal under international law, counter-productive, de-stabilising and provocative.
"It is also important that we support Israel when we see it doing the right thing and welcome positive steps. The UK had noted the absence of settlement announcements during the first few weeks of this year. And while different in scale, I welcome the difficult decision taken this week by the Israeli government to evacuate the single-house settlement of Beit Hamachpela in Hebron.
"The UK urges the Israeli government to desist from further settlement announcements, to revoke previous announcements and to remove - not legalise - illegal outposts from across the West Bank, as required under international law and in fulfilment of Israel's obligations under the Roadmap. If it fails to do so, it will further damage the prospects of a two-state solution and undermine the long-term security this would deliver for Israeli and Palestinian people alike. "
Published 5 April 2012