Foreign Secretary condemns ongoing violence in Syria
Foreign Secretary William Hague welcomes EU and UN Human Rights Council action against Syria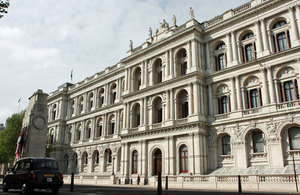 The Foreign Secretary said:
"I am extremely concerned by ongoing violence and repression in Syria. Yesterday, we once again saw a violent response to protests following Friday prayers, leading to the deaths of many innocent people. There are credible reports that over 500 people have been killed in recent weeks. The Syrian government has failed to heed repeated calls by the international community for restraint. As I have stressed it is vital to respond with reform not repression.
I therefore welcome the EU's decision last night to launch an arms embargo against Syria, to take the offer of an Association Agreement off the table and to review all EU cooperation with Syria, including through the European Neighbourhood Partnership. The UK pressed strongly for these steps.
I also welcome the strong resolution passed yesterday by the UN Human Rights Council condemning Syria's conduct and launching a fact finding mission to investigate human rights abuses. The UK actively supported this resolution which was passed by a clear majority of Human Rights Council members.
We will continue to work with our partners to ensure that those responsible for the violence are held personally to account. In this context, I welcome the EU's decision last night to accelerate work on targeted measures against those responsible. The United Kingdom will again be in the forefront of pushing for such measures."
Published 30 April 2011