Foreign Secretary condemns killings in Syria and says world must speak up for its people
"Now is the time for the international community to unite to make clear to President Assad and his regime that the killing must stop."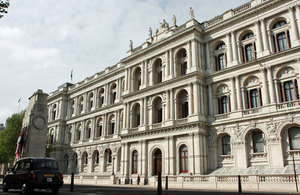 Following the suspension of the operations of the Arab League Observer Mission in Syria today, Foreign Secretary William Hague said:
"I am deeply concerned that the increasing violence in Syria has led the Arab League to halt its operations in Syria. Reports suggest that more than sixty people were killed on the streets of Syria yesterday. The Arab League has led the international community's response to the increasing crisis in Syria. Some of their observers have experienced the violence at first hand.
The international community has repeatedly called on President Assad to stop the killing and the repression of civilians. He has chosen to ignore these calls. As a result there is growing consensus that the world must speak up for the people of Syria.
Now is the time for the international community to unite, including by agreeing a United Nations Security Council Resolution this week, to make clear to President Assad and his regime that the killing must stop."
Published 28 January 2012