Press release
Foreign Secretary condemns killing and mass abduction of civilians in Northern Nigeria
Philip Hammond appalled by attack on village in Borno State.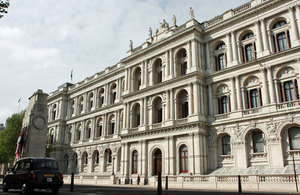 Following reports of the killing and mass abduction of villagers in Northern Nigeria, the Foreign Secretary, Philip Hammond, condemned the attack and expressed his support for Nigeria, saying:
I am appalled by the attack on the village of Gumsuri in Borno State which resulted in the death of over 30 people and the abduction of nearly 200 others. My thoughts and deepest sympathies are with the victims, and with their families.

This was a cowardly attack and a stark reminder of the threat faced by Nigerian communities from Boko Haram. We continue to stand strong to in our determination to support the Nigeria Government in their fight against terrorism.
Further information
Further information
Published 19 December 2014