Foreign Secretary condemns Israel's legalisation of illegal outposts
Foreign Secretary William Hague comments on the news that the Israeli government has legalised three outposts in the West Bank.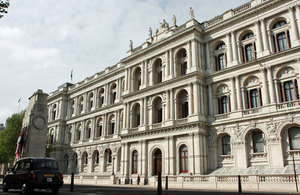 Foreign Secretary William Hague said:
"I strongly condemn the Israeli government's decision yesterday to turn three illegal outposts in the West Bank into settlements. I urged the Israeli government in my statement on 5 April to remove - not legalise - outposts across the West Bank. I fully appreciate the difficult political discussion within Israel such action would require. However, the official sanction being given by Israel, designating outposts as settlements for the first time in over 20 years, sets a dangerous precedent for other outposts, which are illegal under both international and Israeli law.
"By seeking to entrench illegal settlements in the West Bank, as this decision does, the Israeli government risks sending the message that it is not serious about its stated commitment to the goal of a two-state solution to the Israeli-Palestinian conflict. The United Kingdom, in common with all our European Union partners, urges the Israeli government to listen to Israel's international friends. The UK calls on the Israeli government to focus their efforts on a lasting resolution of the Arab-Israeli conflict, to which this further shift in settlement policy presents one more obstacle. I call on the Israeli government to rescind this decision."
Published 25 April 2012