Foreign Secretary condemns intensified violence by "doomed" Syrian regime
Foreign Secretary William Hague said that the regime should be under no doubt that they will be held account for their actions.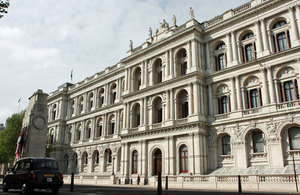 Speaking today the Foreign Secretary said:
"On 1 April the Assad regime made a firm commitment to UN/Arab League Envoy Kofi Annan to cease troop movements towards population centres; stop the use of heavy weapons; withdraw forces from urban areas in Syria by April 10th and to start a political transition. Since then, the regime has used this deadline as a cover for intensified military efforts to crush Syria's opposition. They have ruthlessly subjected whole communities to an inhumane campaign of shelling, forced expulsions and executions. They have attempted to attach unacceptable eleventh-hour conditions to a ceasefire agreement as a pretext for continuing the violence. And the regime has violated the sovereignty of Turkey and Lebanon, firing over Syria's borders at people desperately seeking to find refuge from the regime's onslaught.
"There is no evidence so far that the Assad regime has any intention of adhering to any agreement it makes. This morning I discussed the situation with Turkish Foreign Minister Ahmet Davutoglu, and later today I will have discussions with Kofi Annan about the way forward. We continue to support Kofi Annan's efforts to implement the plan he set out. But if this process fails Britain is ready to return to the UN Security Council to call again for a united international response to this clear threat to international peace and security.
"We will be ready to intensify our support for the Syrian Opposition, and to support others seeking to do the same. And we will begin the process of seeking the referral by the Security Council of the situation in Syria to the International Criminal Court.
"President Assad and his closest cronies should be under no doubt that they will be held to account for their actions. All those with influence over the Syrian leadership, including Russia, have a duty to back efforts to stop the violence and to isolate a regime which is as doomed as it is dangerous to the Syrian people."
Published 10 April 2012