Foreign Secretary condemns decision to accelerate Israeli settlements
Foreign Secretary William Hague has called on Israel to reverse the decision, and called for both sides to return to negotiations.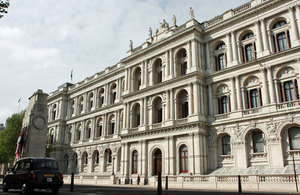 Speaking today the Foreign Secretary said:
"Israel's announcement to accelerate the construction of 2,000 settlements housing units, in response to the successful Palestinian application for membership of UNESCO, is a serious blow to the Quartet's efforts to restart peace negotiations. This settlement building programme is illegal under international law and is the latest in a series of provocative and unhelpful settlement announcements. I condemn the decision to accelerate such construction.
"I am also very concerned about Israel's decision to withhold Palestinian tax revenues. This is in no-one's interests, least of all Israel's, since it has direct implications for the Palestinian Authority's ability to maintain effective security in the West Bank.
"We need to see steps towards peace, not actions that divide and isolate the parties further and undermine the prospects for negotiations. We call on Israel to reverse both these decisions, and on both sides to show the courage and leadership necessary to achieve a return to negotiations".
Published 2 November 2011