Foreign Secretary condemns callous attacks on Iraqi civilians
Foreign Secretary William Hague said that the UK will continue to support the government of Iraq in it's efforts to defeat terrorism.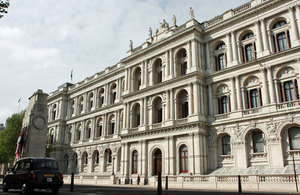 Commenting on the string of bomb attacks that have killed more than 90 people across Iraq in the past two days, the Foreign Secretary said:
"I utterly condemn the bomb attacks that have taken place across Iraq over the past few days. I offer my deepest condolences to the families of those who lost their lives. My thoughts are with them and with the many who have been injured at this terrible time.
"Coming at the start of the holy month of Ramadan, a time of peaceful reflection and prayer, these attacks demonstrate an appalling disregard for human life. We will continue to support the government of Iraq in its efforts to defeat terrorism, and to provide security for all Iraqis."
Published 23 July 2012