Foreign Secretary condemns bomb attacks in Syria
Foreign Secretary William Hague has condemned the attacks in Damascus on 10 May, which have killed at least 40 people.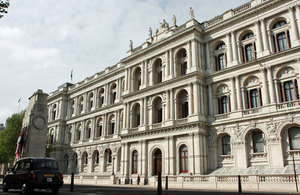 Speaking today he said:
"I condemn today's bomb attacks in Damascus which have claimed over 40 lives and injured more than 300 people, most of them civilians. Yet again it is the people of Syria who are suffering as a result of the repression and violence, which must come to an end. As Kofi Annan made clear to the UN Security Council earlier this week, the onus is on the Syrian authorities to implement a full ceasefire and begin the political dialogue required by the Annan Plan.
"The UK supports fully the work of the UN and the Joint UN/Arab League Special Envoy and their efforts to end the violence and resolve the crisis in Syria. To that end it remains critical for the UN mission to deploy in full, and for monitors to cover as many locations as possible, as soon as possible.
"Yesterday's attack on a UNSMIS convoy in Deraa shows how difficult and dangerous conditions are on the ground and I pay tribute to the men and women involved in the UN mission.
"I urge the Syrian government to implement rapidly and fully their commitments under the six point plan. And I call on the opposition to take all steps necessary to bring about a sustainable end to the violence."
Published 10 May 2012