Foreign Secretary condemns blocking of the 'UK for Iranians' website
The Foreign Secretary William Hague has expressed concerns at censorship in Iran as the 'UK for Iranians' website is blocked.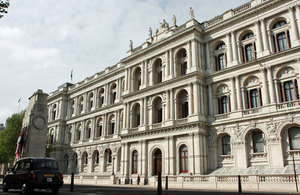 Responding to the blocking of the 'UK for Iranians' website in Iran on 17 March, the Foreign Secretary said:
"I condemn this action by the Iranian Government. 'UK for Iranians' was launched to reach out to Iranians, explaining, discussing and engaging with them on UK policy. We have no quarrel with the Iranian people and regret that the Iranian authorities fear their own citizens' interaction and involvement with the outside world.
"Iran's people have had to endure an ever-tightening stranglehold of censorship. The blocking of our website is only a very small part of what Iranians undergo daily: millions of websites blocked, access to e-mail services denied, international television channels jammed, films and theatre productions closed down, books unpublished, traditional Persian literature rewritten and newspapers banned.
"At the launch of our website, I celebrated the links between the UK and Iran, and the richness of Iran's culture which has inspired many around the world, including in the UK. It is not just Iranians who are the poorer for their government's censorship, but the rest of the world. We will continue to look for opportunities to engage with the Iranian people, confident that Iranians are outward looking and deserve the same freedoms that others enjoy around the world."
Published 19 March 2012