Press release
Foreign Secretary condemns attack on UN compound in Mogadishu
Foreign Secretary William Hague has condemned today's attack on UN compound & applauded the efforts of Somalia's national security forces.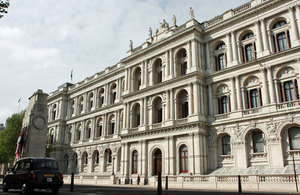 The Foreign Secretary William Hague said:
I deplore this attack against the heart of the UN's operations in Somalia, in which a number of people have been killed. My thoughts are with the victims and their families, friends and colleagues. As the Prime Minister of Somalia has said, the UN are friends and partners of Somalia. They are leading efforts to provide political and practical support to Somalia and the Somali people, including life-saving humanitarian assistance. To murder staff working for the UN is utterly indefensible.

I applaud the efforts of Somalia's national security forces with the support of AMISOM in bringing the incident under control so quickly and with such professionalism. This is a major achievement. We all owe a huge debt to the bravery of AMISOM and Somalia's armed forces who are working side by side to defend Somalia against Al Shabaab's wanton violence. We remain resolved to continue supporting the progress we have witnessed in Somalia over the last two years. This kind of attack does nothing to shake that resolve.
Further information
Follow the Foreign Secretary on twitter @WilliamJHague
Follow the Foreign Office on twitter @foreignoffice
Follow the Foreign Office on facebook and Google+
Subscribe to the announcements feed or email alerts to get our latest news and announcements.
Published 19 June 2013