Foreign Secretary condemns attack in Abuja
Foreign Secretary William Hague has condemned the bomb attack on the UN building in Abuja on 26 August.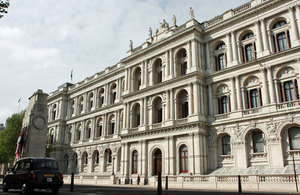 On hearing the news the Foreign Secretary said:
"I was shocked to hear of today's bomb attack at the UN compound in Abuja. This brutal act has killed and injured many innocent people and I utterly condemn those who have carried it out. My thoughts are with the families, friends and colleagues of those affected.
"Around the world the UN works for peace, security and international cooperation and an attack on the UN is an attack on these principles.
We will be passing on condolences to the UN Secretary General and President Jonathan. The UK stands ready to provide any assistance we can to the UN and Nigerian authorities to bring those responsible to justice."
Published 26 August 2011