Foreign Secretary concludes visit
William Hague has ended a busy two-day visit to Japan, during which he called for a deepening of the UK-Japan relationship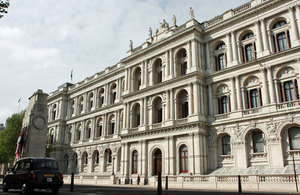 Calling on Prime Minister Naoto Kan and Foreign Minister Katsuya Okada on 15 July, William Hague underlined his commitment, and that of British Prime Minister David Cameron, to deepening and broadening the UK-Japan relationship, both in cooperating on key foreign policy issues, but also in building a strong and mutually beneficial economic and commercial relationship.
The first member of Britain's coalition government to visit Japan, the Foreign Secretary stressed that both countries share key foreign policy priorities, such as bringing peace and stability to Afghanistan, nuclear non-proliferation, North Korea, climate change, Burma and overseas development assistance.
He also highlighted the importance of the UK-Japan bilateral relationship to the UK economy, with 1200 Japanese companies responsible for 100,000 jobs. This existing close investment and trade relationship was a powerful base with which to expand UK-Japan and EU-Japan trade and, through cooperation, to increase economic opportunity.
In meetings with the Japanese Minister of Economy, Trade and Industry, Minister of Defence, as well as senior representatives of Japanese industry and UK business in Japan, The Foreign Secretary reassured Japanese business that a warm welcome continued to await them in the UK. Britain's coalition government was determined to create an even better environment for overseas investors. He also commented on the huge potential benefits and increased trade flows for both UK and Japanese businesses which could be created through the removal of remaining barriers to trade.
UK Prosperity
During his visit the Foreign Secretary also delivered the second of four keynote speeches, setting out the British coalition government's distinctive foreign policy vision.
Entitled 'Britain's Prosperity in a Networked World', the speech set out how the Foreign Office will inject a new commercialism into its work, thus ensuring the development of strong political relationships that will help British business thrive and secure Britain's economic recovery.
Published 16 July 2010