Press release
Foreign Secretary concerned at lack of progress in Syria talks
The Foreign Secretary has described the failure to establish a new round of Geneva talks as a 'serious setback'.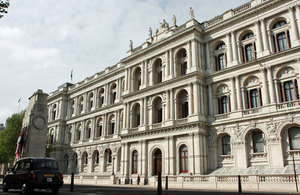 Speaking today the Foreign Secretary William Hague said:
The failure to agree an agenda for future rounds of talks on the Geneva process is a serious setback in the search for peace in Syria, and the responsibility for it lies squarely with the Assad regime.

Lakhdar Brahimi's comments at his press conference this morning made clear that the regime refused to discuss the issue of a Transitional Governing Body, an issue that is at the heart of the negotiation and an essential means of ending the conflict.

This cannot be the end of the road. With the war in Syria causing more death and destruction every day, we owe it to the people of Syria to do all we can to make progress towards a political solution. So we will continue to give our strong support to Lakhdar Brahimi and the Geneva process.

It is also now more urgent than ever to move forward with a UN Security Council Resolution that addresses the appalling humanitarian suffering in Syria. The people in Syria's besieged areas and the many parts of the country not receiving any aid cannot wait.
Further information
Follow the Foreign Secretary on twitter @WilliamJHague
Follow the Foreign Office on twitter @foreignoffice
Follow the Foreign Office on facebook and Google+
Published 15 February 2014