Foreign Secretary comments on Tunisia - one year on from Ben Ali's departure
Speaking ahead of the anniversary of the fall of the Ben Ali regime, Foreign Secretary William Hague gave a statement.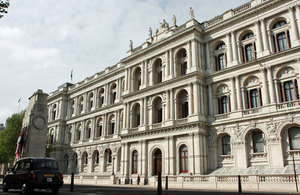 The Foreign Secretary said:
"The events in Tunisia culminating on 14 January 2011 with the departure of President Ben Ali marked the beginning of a new era for the Middle East and North Africa, and showed that the desire for freedom can overcome entrenched and repressive regimes. What happened in Tunisia inspired millions of people across the region to demand freedom for themselves and accountability from their governments.
"In the past year Tunisia has made impressive progress: introducing greater openness, holding free and fair elections and forming an inclusive coalition government. The UK will continue to support Tunisia's transition and the crucial work now under way to entrench freedoms and build accountable institutions".
Published 13 January 2012