Press release
Foreign Secretary comments on security incident in Nairobi
Prime concern is welfare of members of the public and the UK is in touch with Kenyan Ministers and authorities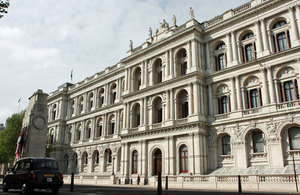 Commenting on the security incident at a shopping centre in Nairobi, Kenya, Foreign Secretary William Hague said:
We are aware of a major security incident underway at the Westgate Shopping Centre in Nairobi. We are in close contact with the Kenyan authorities on the ground in Kenya and at ministerial level in the United Kingdom. The prime consideration at present is the welfare of members of the public caught up in this incident.
Concerned British nationals are advised to monitor FCO travel advice and to contact 020 7008 0000.
Further information
Follow the Foreign Secretary on twitter @WilliamJHague
Follow the Foreign Office Travel Advice on twitter @FCOtravel
Follow the British High Commission in Kenya on twitter @UKinKenya
Follow the Foreign Office on facebook and Google+
Published 21 September 2013