Press release
Foreign Secretary comments on Israeli Government's decision to declare 385 acres of land in the West Bank as 'state land'
Foreign Secretary Philip Hammond expresses concern about Israel's recent decision and underlines the UK's position on Israeli settlements.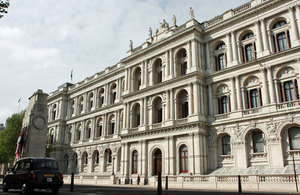 Mr Hammond said:
I'm concerned that the Israeli Government intends to declare 385 acres of land in the West Bank as 'state land', which would be the largest declaration of this kind since August 2014.

The UK's long-held position on Israeli settlements, and that of our international partners, is clear: they are illegal under international law, are an obstacle to peace and undermine the prospects for a two-state solution. The UK strongly opposes any moves which take us further away from an enduring peace settlement.
Further information
Published 22 January 2016