Foreign Secretary comments on Iran nuclear resolution
Foreign Secretary William Hague has spoken following the International Atomic Energy Agency's Board of Governor's latest resolution on Iran.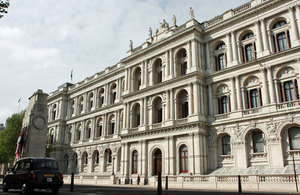 Speaking today the Foreign Secretary said:
"The International Atomic Energy Agency has today sent an unambiguous message to Iran that it must address the grave concerns of the international community about its nuclear programme. The IAEA's report provides credible and detailed evidence about possible military dimensions of the Iranian programme. The IAEA Board's resolution - supported by the UK, US, France, Germany, Russia and China - should leave Iran in no doubt about the unity and determination of the international community.
"We want a negotiated solution and have again extended the hand of reconciliation to Iran, reiterating the E3+3's concrete offer laid out in Istanbul. But Iran must come to the table ready to talk seriously and without preconditions.
"As today's resolution makes clear, the IAEA cannot provide credible assurances about Iran's nuclear programme. Until Iran acknowledges this, co-operates fully with the Agency and complies with all its international obligations, we and our partners will work together to tighten the pressure on Iran. Iran is already isolated in the world but it does not need to be. Its response to this report must be to chose a different path."
Published 18 November 2011