Foreign Secretary comments on IAEA report regarding Iran's Nuclear Programme
The IAEA Director General's latest report on Iran's nuclear programme was discussed in Vienna on 9 March.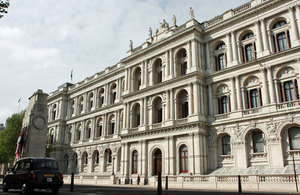 Both the E3+3 and EU issued statements of support for the Director General.
Speaking about the report, Foreign Secretary William Hague said:
"The latest IAEA report provides further evidence for the international community's deep concerns about the nature of Iran's nuclear programme.
"The report comprehensively outlines the many areas where Iran is failing to comply with its international obligations. Iran continues to enrich uranium in defiance of numerous UN Security Council and IAEA Board Resolutions, and has consistently failed to answer questions about possible military dimensions of its programme. The Director General is also clear that the agency's knowledge of Iranian enrichment activities is diminishing - and he therefore cannot confirm that all nuclear material in Iran is "in peaceful uses".
"This needs to change. Iran should not think that recent events in the Middle East have distracted the world's attention away from its nuclear programme. The statement by the Russian representative today on behalf of the E3+3 shows that our shared concern is undiminished. The pressure on Iran will continue to grow until the country alters its current stance".
Published 9 March 2011