Foreign Secretary comments on E3+3 talks with Iran
Foreign Secretary William Hague has spoken following talks between Iran and the E3+3 in Istanbul, Turkey.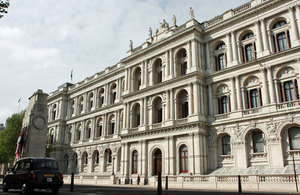 Commenting on the outcome of the talks, he said:
"The six negotiating powers approached these talks determined to pursue a serious dialogue with Iran, and committed to finding a peaceful, negotiated solution to the nuclear issue. Today's talks were a first step towards that objective, but there is still a long way to go.
"We look forward to the next round of talks. We now need agreement on urgent, practical steps to build confidence around the world that Iran will implement its international obligations and does not intend to build a nuclear weapon."
Published 14 April 2012