Foreign Secretary comments on Afghanistan attacks
Foreign Secretary William Hague has strongly condemned coordinated attacks in Kabul and other Afghan provinces.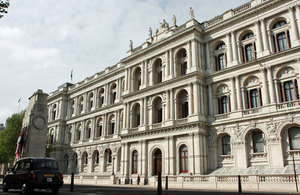 Speaking today, he said:
"I strongly condemn today's coordinated attacks against the Afghan parliament, a hotel, an ISAF camp and diplomatic premises in Kabul and other Afghan provinces. The British Embassy was one of the diplomatic premises that was targeted.
"I am pleased to report that every member of Embassy staff is safe and that there has been limited damage to Embassy premises. I would also like to praise the staff in the British Embassy, who dealt with this dangerous situation extremely professionally.
"The Afghan National Security Forces responded to the attacks bravely, promptly and effectively, once again illustrating the significant progress that has been made in ensuring that Afghans can look after their own security. Britain stands with the government and people of Afghanistan as they work to build a peaceful future."
Published 15 April 2012