Foreign Secretary comments on 12 February Arab League meeting on Syria
Foreign Secretary William Hague has commended the Arab League for its commitment, leadership and resolve in working to end the violence in Syria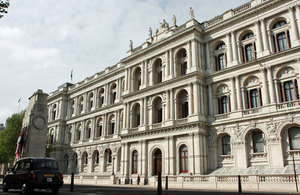 The Foreign Secretary, William Hague, speaking today said:
"The Arab League yesterday took significant steps to increase the diplomatic and economic isolation of the Syrian regime, whilst reaffirming their plan of 22 January. I commend the Arab League for its commitment, leadership and resolve in working to end the violence in Syria. The UK firmly believes that sustained and united international pressure is needed to resolve the crisis in Syria.
I welcome in particular the Arab League's decision to endorse a Group of Friends of Syria, which will meet in Tunisia on 24 February. The UK will play a very active part in this group.
I also welcome the Arab League's commitment to increase its political and financial support to the Syrian opposition, and to encourage a more united opposition that represents all of Syria's communities. We will discuss urgently with the Arab League and our international partners the proposals for a joint AL/UN peacekeeping force. Such a mission could have an important role to play in saving lives, providing the Assad regime ends the violence against civilians, withdraws its forces from towns and cities and establishes a credible ceasefire.
President Assad must be in no doubt of the determination of his neighbours and the international community to bring an end to the violence in Syria. The Arab League could not have sent a clearer message to Syria than the one it sent yesterday and we look forward to working closely with them in the coming days and weeks"
Published 13 February 2012