Foreign Secretary chairs UN Security Council debate on Sudan
The debate focussed on the importance of a peaceful and credible referendum in January 2011 and progress on the political, humanitarian and security situation in Darfur.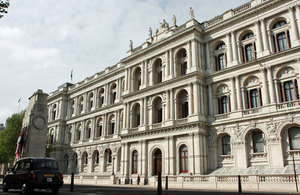 The debate started with a statement from the President of the UN Security Council. As the UK holds the Presidency, Foreign Secretary William Hague delivered the statement.
The Foreign Secretary said:
"The Security Council reaffirms its strong commitment to the sovereignty, independence, peace and stability of Sudan, and to a peaceful and prosperous future for all Sudanese people and underlines its support for the Sudanese parties' full and timely implementation of the Comprehensive Peace Agreement (CPA), including the holding of the referenda on the self-determination of the people of Southern Sudan and on the status of Abyei and of the popular consultations in Southern Kordofan and Blue Nile, and for a peaceful, comprehensive and inclusive resolution of the situation in Darfur."
Read the full Presidential statement
Speaking on behalf of the UK, he said:
"A stable Sudan will help build security and prosperity in the region. It will mean that Sudan does not again become a base for terrorism, or a source of refugees fleeing to neighbouring countries. And most importantly, it will help the Sudanese people receive the tangible benefits of peace that have eluded them for so long."
"Much international attention is understandably focused on North/South issues in Sudan. But we must not lose sight of the situation in Darfur, where hundreds of thousands have suffered and died. We must work intensively with all parties involved towards a peaceful and inclusive political settlement, addressing the violence and insecurity, including by combating impunity and supporting the peace talks in Doha.
Published 16 November 2010