Foreign Secretary calls on Iran to take "urgent, concrete steps"
Foreign Secretary comments after the E3+3 talks with Iran in Baghdad today.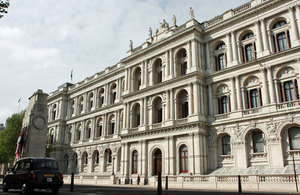 Foreign Secretary William Hague said:
"Talks between Iran and world powers in Baghdad have concluded today with limited progress. While there was serious discussion on the substance of Iran's nuclear programme, including the key concerns around 20% enrichment, significant differences remain.
"The E3+3 went united and ready to take concrete steps to build confidence. In line with the reciprocal, step by step approach agreed at Istanbul we set out in detail the steps we hoped Iran would take and how we would respond. We are still waiting for Iran to engage fully on these.
"The clear and unified conclusion of the E3+3 was that urgent, concrete steps need to be taken by Iran to allow progress. If Iran fails to respond in a serious manner, they should be in no doubt that we will intensify the pressure from sanctions, including the embargo on oil imports already agreed, and will urge other nations to do the same.
"As we have confirmed at the conclusion of the talks in Baghdad today, we remain fully committed to the diplomatic process underway and to finding a peaceful, negotiated solution to the nuclear issue. We are making every effort to achieve this. But we must see significant progress from Iran at the next meeting in Moscow."
Published 25 May 2012