Foreign Secretary calls on Iran to engage in real negotiation about nuclear programme
Speaking Wednesday after meeting with E3+3 foreign ministers in New York, Foreign Secretary William Hague made clear that the international community was united in calling for Iran to adhere to its international obligations and return to talks.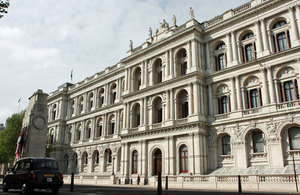 The Foreign Secretary said that the E3+3 were "speaking with one voice" on sanctions and called on "Iran to engage in real dialogue about its whole nuclear programme." He stressed that he would reiterate this message when he met with Iranian Foreign Minister Mottaki later Wednesday.
He went on:
"The unity of the E3+3 shows Iran that they can't just walk away and refuse to talk about this. The world is not going to forget this."
The Foreign Secretary emphasised that the nuclear issue is at the top of the world's agenda because "it threatens to bring about a nuclear arms race across the Middle East".
"This is the world saying this to Iran… Iran should not underestimate the strength of feeling in the international community or the determination to deal with this issue. But nor should they underestimate our readiness to have the dialogue about it, to have talks provided they're really meaningful about the whole nuclear programme. So it's a twin track approach - sanctions which put Iran under pressure, but also the offer of negotiations which mean we can sort out this problem in the interests of the peace of the whole world".
Commenting on the Middle East Peace Process, the Foreign Secretary said: "Direct talks have started. They've started in a good atmosphere from what everybody has said".
"The UK is playing a strong role. We have played a strong role in encouraging the Palestinians to enter talks", and over the weekend "I have again put it to the Israelis that it is important to continue the freeze on settlements in the Occupied Palestinian Territories. We owe it to all involved to find a solution. We look to all involved to make a success of these talks and find a two state solution in the Middle East."
Published 22 September 2010