Foreign Secretary calls for urgent action on Syria
Foreign Secretary William Hague has commented following the UN Mission's decision to suspend its activities in Syria.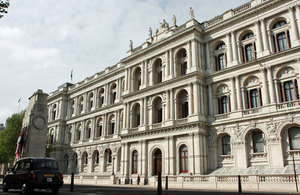 The Foreign Secretary said:
"I regret that it has been necessary for the UN Mission to decide to suspend patrols and to restrict staff movements due to escalating violence in Syria.
"This underlines the extent of the deterioration of security and stability in Syria, and calls into serious question the viability of the UN Mission.
"This worsening situation has been caused by the actions of the Assad regime. As Kofi Annan has said, the Syrian regime bears the primary responsibility for ending the violence and I condemn in the strongest terms its absolute failure to do so. I also call on the armed opposition in Syria to stop its violence.
"This development only underscores the need for the international community urgently to come together to compel the regime to meet its commitments. The United Nations Security Council will be considering its options including for the future of the UN Mission to Syria in light of a briefing from Major-General Mood on Tuesday. The Prime Minister will also have urgent discussions about the situation in Syria with other leaders at the G20 meeting in Mexico".
Published 16 June 2012