Foreign Secretary calls for the release of all political prisoners in Belarus
Foreign Secretary William Hague has condemned the sentences passed against former presidential candidates in Belarus.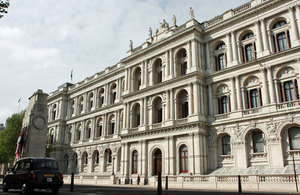 The Foreign Secretary said:
"I utterly condemn the sentences passed against former presidential candidates, Mikolai Statkevich and Dmitry Uss, on 26 May. Whatever the official reason given for their conviction it is clear that their real "crime" was the exercise of their right to protest against the flawed elections of 19 December.
I equally condemn the sentencing on 20 May of former presidential candidates, Vladzimir Neklyayev and Vytaly Rymasheuski. This trial is the latest in a series of politically-motivated show trials which have seen the conviction of 43 people. The Belarusian authorities need to understand that there can be no normalisation of relations with the international community without respect for the most basic of human rights and fundamental freedoms."
The UK calls on Belarus to:
release all political prisoners and drop all charges against them with immediate effect;
end all politically motivated persecution and harassment of democratic forces, representatives of civil society, human rights defenders, independent media, students and those defending them;
conduct a thorough, credible, impartial and transparent investigation in accordance with international standards into the allegations of torture and other cruel, inhuman or degrading treatment of all those arrested;
comply with its OSCE commitments, including under the Moscow Mechanism, and reverse its decision not to approve the renewal of the mandate of the OSCE's Mission in Belarus.
Published 27 May 2011