Foreign Secretary calls for restraint in Syria
Foreign Secretary William Hague called for security forces to exercise restraint, and to respect the Syrian people's right to protest.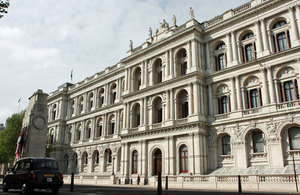 The Foreign Secretary said:
"I am concerned by the reports of further deaths and casualties in Syria overnight. I call on the Syrian security forces to exercise maximum restraint, and on the Syrian authorities to respect the people's right to peaceful protest. As I have said before, the Syrian Government should act urgently to respond to the legitimate demands of the Syrian people for political change and move towards implementing much needed reform.
"Today's decision to remove the decades-old Emergency Law is a step in the right direction. However, it is only one part of a wider package of necessary reforms. The Syrian authorities should do more to ensure the Syrian people experience real political progress without delay."
Published 20 April 2011