Foreign Secretary calls for Iran to halt execution of Sakineh Mohammadi-Ashtiani
Foreign Secretary William Hague described the punishment as "barbaric" in an interview with Sky News today.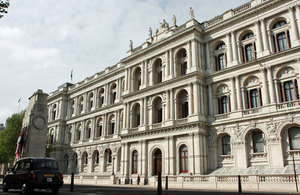 "I think this is a barbaric punishment, I think it will damage Iran in the eyes of the world. It would be much better not to proceed with it. I think many people across the world are outraged by the punishment and by the prospect of being, of it being carried out. I would urge them to desist from it."
Earlier today, EU High Representative Catherine Ashton joined calls to halt the Ms Ashtiani's execution. A spokesperson for Ms Ashton said:
"Catherine Ashton is deeply concerned by reports that the execution of Ms Sakineh Mohammadi-Ashtiani may be imminent. She demands that Iran halts the execution and convert her sentence.
Ms Mohammadi-Ashtiani has been at risk of execution by stoning for adultery, a particularly cruel method of execution which amounts to unacceptable torture. The EU joined many other countries and organisations in condemning this sentence as a clear violation of Iran's international obligations under the International Covenant for Civil and Political Rights.
While the Iranian authorities have given assurances that Ms Ashtiani would not be killed by stoning, she has since faced charges for alleged complicity in the murder of her husband and may be executed by hanging. Neither sentence is acceptable.
Catherine Ashton is also concerned that Ms Ashtiani was not given a fair trial, not least in view of the detention of her lawyer, Mr Javid Houtan Kian, (and her son who has campaigned for her release).
Under these circumstances, Catherine Ashton reiterates her call on Iran to halt Ms Ashtiani's execution and to convert her sentence.
Catherine Ashton reaffirms the EU's opposition to the death penalty under all circumstances and calls on Iran to consider a moratorium on executions pending the abolition of the death penalty in accordance with UN General Assembly resolutions 62/149 and 63/168.
She also reminds Iran of its acceptance, during its Universal Periodic Review at the UN Human Rights Council, to respect at least the minimum standards and the provisions of ICCPR and CRC concerning the death penalty, for as long as it is maintained."
Speaking yesterday, Minister for the Middle East Alistair Burt said:
"The Charge D'Affaires was not able to confirm whether or not current media concerns were based on accurate reports. I asked for any information he might have on this to be made available to us, but took the opportunity to remind him that the UK government would regard the execution of Ms Ashtiani as utterly unacceptable. It would be an act which would be condemned by us and partners throughout the EU. I hope the world will see a good response from the authorities in Tehran.
I am deeply disturbed by suggestions that Sakineh Ashtiani could be executed imminently. The British Government has been following her case closely. We have repeatedly called for a stay of execution and a fair and transparent review of her sentence - any move to execute her would be utterly unacceptable and would be condemned widely and in the strongest terms. The world watches and waits".
Published 3 November 2010