Press release
Foreign Secretary calls for immediate action on humanitarian crisis in Syria
William Hague calls on Assad regime to provide immediate humanitarian access to 9.3m people in need in Syria.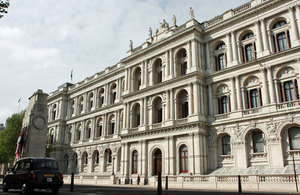 Speaking as the UN makes its monthly report on progress of the UN Security Council Resolution 2139 on humanitarian access in Syria, Foreign Secretary William Hague said:
It is unacceptable that the Syrian regime has failed to make the necessary progress demanded in UNSCR 2139. As the UN reports, the regime has intensified its indiscriminate use of aerial bombardments, including using barrel bombs, continued to use siege tactics to starve 175,000 of its own people and denied humanitarian agencies sustained periods of access to millions of Syrians in desperate need.

I call on Assad to implement immediately the measures demanded by the UN and call on the regime's international backers to press the need for urgent action.

All groups must comply with UNSCR 2139 and I also condemn the actions of extremist groups which have blocked humanitarian access. In contrast, I welcome the steps taken by the National Coalition and other moderate opposition groups to implement UNSCR 2139, as recognised by the UN report, including facilitating the delivery of humanitarian aid in parts of Aleppo and Idlib. However as the UN report demonstrates clearly - the primary responsibility for action remains with the regime whose behaviour has only deteriorated even further since the adoption of UNSCR 2139.

The unanimous adoption of UNSCR 2139 reflects the strong will of the international community to address the desperate humanitarian situation in Syria. The UK will press for substantive progress before the next report in April.
Further information
Follow the Foreign Secretary on twitter @WilliamJHague
Follow the Foreign Office on twitter @foreignoffice
Follow the Foreign Office on facebook and Google+
Published 28 March 2014