Press release
Foreign Secretary calls for dialogue in South Sudan
William Hague urges all parties to engage in political dialogue and thanks Foreign Minister for help in evacuating British Nationals.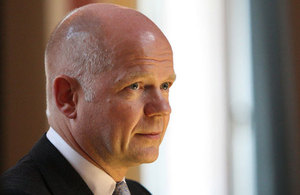 The Foreign Secretary today spoke to South Sudanese Foreign Minister Barnaba Marial Benjamin to thank him for his assistance in ensuring that two RAF flights were able to evacuate British and other Foreign Nationals on 19 and 20 December. A third charter flight will leave on 23 December. The Foreign Secretary expressed his concern at continuing violence and political tensions in South Sudan and urged the Government to engage seriously in the political dialogue proposed by South Sudan's neighbours.
The Foreign Secretary William Hague said:
I remain very concerned at the situation in South Sudan. Increased political polarisation and inter-communal tensions are fuelling a dangerous situation. It is vital that all leaders urge restraint on their supporters and commit to a political resolution of their differences. South Sudan has a legitimate, democratically elected government. Resorting to military means to further political rivalries is a betrayal of the hopes on which the new state of South Sudan was founded.

I have underlined my concerns with the South Sudanese Foreign Minister today and urged his government to work for political reconciliation on the basis of the proposals put forward by regional foreign ministers during their visit to Juba on 20-21 December. He has reassured me of the government's openness to dialogue without preconditions.

I thanked Minister Marial Benjamin for the assistance that the South Sudanese authorities and he personally have given to ensure the smooth turn-around of our evacuation flights this week. I encourage any remaining British Nationals to take advantage of the third flight that we are making available on 23 December.
Further information
Follow the Foreign Secretary on twitter @WilliamJHague
Read the Foreign Office travel advice for South Sudan
Follow the Foreign Office on twitter @foreignoffice
Follow the Foreign Office on facebook and Google+
Published 22 December 2013