Press release
Third aircraft to assist British nationals leave South Sudan
Plans for third and final UK-chartered aircraft for British nationals wishing to leave South Sudan.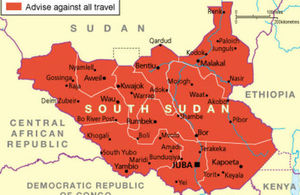 A Foreign and Commonwealth Office spokesperson said:
Due to the continued violence in South Sudan, the Foreign and Commonwealth Office (FCO) is planning to send a third and final plane to assist any remaining British nationals to leave.

The FCO is planning to provide a charter flight to depart from Juba to Dubai during the afternoon of Monday 23 December. Following the assisted departure of British nationals earlier this week on military flights, this will be the final flight provided by the FCO for British nationals to leave South Sudan.

If you are a British national and you wish to leave Juba you should contact the FCO as soon as possible on +44 207 008 1500 or by email at crisis@fco.gsi.gov.uk.

If you would like to be on the flight on 23 December, you will need to be at Juba Airport by 1200 hours. It may not be possible to carry baggage. If you bring baggage to the airport, you may have to leave it there.

We strongly advise all British nationals in South Sudan to leave the country if they can do so safely. You may have difficulty leaving in the event of a further deterioration in security.

British nationals choosing to remain in South Sudan should remain alert to the local security situation, monitor the media, and stay in a safe location. A curfew is in place in Juba and some other towns between 6pm and 6am. You should be aware that it will be difficult for the British government to provide consular assistance in the event of a further deterioration in the security situation.

Any British nationals wishing to leave should be reassured that all personal information will be protected in line with the Data Protection Act 1998.
Further information
Read the FCO travel advice for South Sudan
Follow @fcotravel on twitter for updates on travel advice
Follow the Foreign Office on twitter @foreignoffice
Follow the Foreign Office on facebook and Google+
Published 21 December 2013