News story
Foreign Secretary: British diplomatic team in Benghazi has 'now left Libya'
Foreign Secretary William Hague has issued a statement on the small British diplomatic team in Benghazi and the situation in Libya.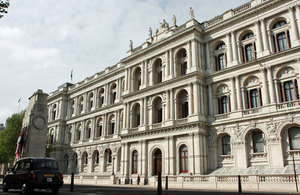 I can confirm that a small British diplomatic team has been in Benghazi. The team went to Libya to initiate contacts with the opposition. They experienced difficulties, which have now been satisfactorily resolved. They have now left Libya.
We intend, in consultation with the opposition, to send a further team to strengthen our dialogue in due course. This diplomatic effort is part of the UK's wider work on Libya, including our ongoing humanitarian support.
We continue to press for Qadhafi to step down and we will work with the international community to support the legitimate ambitions of the Libyan people.'
Published 6 March 2011