Press release
Foreign Secretary boosts language learning for diplomats
William Hague: languages are a fundamental skill for diplomats, enabling them to get under the skin of a country & to understand its people.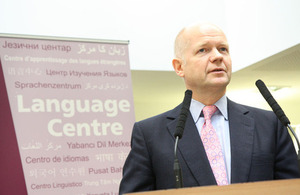 Foreign Secretary William Hague today opened a new language centre in the Foreign Office in London. Reversing a previous decline in language classes, this will see a renewed focus on language as a traditional diplomatic skill, helping British diplomats compete better globally.
The centre will have a state-of-the-art media suite, and aims to become the UK's centre of excellence in providing language training to government staff. It will also have an extensive library of over four thousand linguistic textbooks and more than forty classrooms.
The Foreign Secretary said:
Today's opening is a milestone in one of my personal objectives as Foreign Secretary, which is to build up the long term strength and effectiveness of the Foreign Office as an institution.

I have made no secret of the fact that I regarded the previous closure of the language school as an act of supreme short-sightedness. Working in a foreign language is one of the fundamental skills of our diplomats: without it they cannot get under the skin of a country and understand its people.

It also helps us identify and influence those who are shaping events, such as in the context of the Arab Spring. Arabic, for example, is the fastest growing language on social media platforms globally, and we need good language skills to tap into this rich conversation and to put across our position.

It has never been more important to have a flourishing Foreign Office. We live in a competitive, turbulent world and there is no substitute for a strong British Diplomatic Service that advances the interests of the United Kingdom.
The FCO typically provides more than 70,000 hours of language training per year. Almost three quarters of training is in 6 core languages: Arabic, Russian, French , Spanish, German, and Mandarin. The remaining quarter covers languages as wide-ranging as Burmese and Zulu.
Since the Foreign Secretary's keynote languages speech in 2011, the FCO has created extra speaker positions in key parts of its network (China, the Middle East and North Africa) and lengthened training times. Once trained speakers are in place, it will have 40% more speakers of Mandarin and Arabic in Posts overseas than in 2010 and 20% more in Latin American Spanish and Portuguese.
Further information
Read the full text of the Foreign Secretary's speech
Follow the Foreign Secretary on twitter @WilliamJHague
Follow the Foreign Office on twitter @foreignoffice
Follow the Foreign Office on facebook and Google+
Published 19 September 2013