Foreign Secretary awards Afghanistan Civilian Service Medal
More than 100 civilians were awarded the first Afghanistan Civilian Service Medals for their dedicated work to bring about a better future for Afghanistan.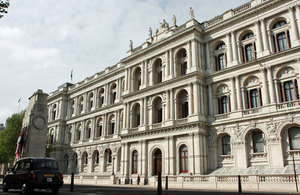 Awarded by Foreign Secretary William Hague, the medal recognises the contribution that civilians have made working in Afghanistan over the last ten years. Those receiving medals have worked towards a range of UK Government priorities in Afghanistan, for example by supervising reconstruction projects, providing humanitarian and development support, working on counter-terrorism and counter-narcotics and helping set up schools.
Speaking at the medal presentation the Foreign Secretary said:
"What is often forgotten is the dedication and devotion of the many thousands of civilians who have worked, in testing conditions, to build democracy and security and improve the lives of ordinary Afghans.
"Many of you will have had to endure the difficulties of life in a combat zone; coming under fire, sleeping in bunk beds, boiling in summer and freezing in winter, separated from your families and loved ones. Achieving what you have, with the enthusiasm and vigour which you have maintained, demonstrates the very highest standards of professionalism and commitment.
"What you have achieved is impressive and you should feel justifiably proud. Since 2001 there has been a fivefold increase of children in education in Afghanistan; eight times as many people have access to a local healthcare facility; and Lashkar Gar, the capital of Helmand Province, held its first set of municipal elections on 30th April last year. These are just a few of the many achievements that you all have contributed to over the last 10 years.
"Whether through projects to build new schools and medical centres; counter narcotics initiatives; or providing legal training to prosecutors, UK-supported activities are bringing stability and security to Afghanistan and that is something that must continue to transition in 2014 and beyond."
The medal is awarded to all civilians who have served 30 continuous days, or 45 aggregated in Afghanistan in direct support of the Government's objectives in Afghanistan.
Medal recipients come from a wide cross section of public and private sectors including diplomats, advisors and contractors to the British Government. The first batch of 110 medals was awarded at a ceremony at the Foreign and Commonwealth Office today.
Published 3 May 2012