News story
Foreign Secretary attends NATO Foreign Ministers meeting
Foreign Secretary Boris Johnson will discuss a range of issues with his NATO counterparts, including Russia and Ukraine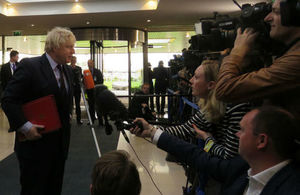 The Foreign Secretary reiterated the need for NATO to continue evolving to meet changing security threats as he arrived at the NATO Foreign Ministers meeting in Brussels today (31 March).
Speaking to media ahead of the meeting, Boris Johnson said:
It's very good to be here at Rex Tillerson's first NATO meeting. A very important occasion for the US Secretary of State. The reason this [NATO] is the most successful alliance in history is because it's continually been able to adapt. Obviously we face new challenges now from Russia, a resurgent Russia getting up to all kinds of mischief in the Western Balkans and elsewhere. NATO also of course has a crucial role in tackling international terrorism and the alliance is batting very successfully to beat that challenge in Afghanistan, in Iraq, and we're trying to see what we can do to respond to appeals for help from Libya.

The crucial message I think that everybody will be getting across is that as NATO adapts and faces new challenges, we have to fund this organisation properly and as you know we in the UK are committed to 2% [defence spending], 20% for capital equipment, and of course we will be increasing our defence budget in real terms every year until 2021. I will stress one thing: the UK's commitments to the defence and the security of this region, of Europe, is unconditional and it is not some bargaining chip in negotiations that may be taking place elsewhere in this capital. We make an unconditional commitment to the defence and the security of Europe as we profoundly believe it's in the interest of the security and the prosperity of the whole trans-Atlantic area. Thank you.
Further information
Published 31 March 2017