Foreign Secretary attends Friends of Syria meeting
Foreign Secretary William Hague attended the third Friends of Syria meeting in Paris on 6 July.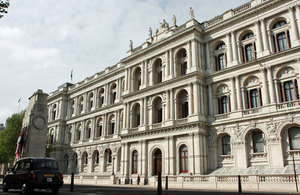 On 6 July more than one hundred countries met in Paris for the third Friends of Syria meeting in support of Joint Envoy Kofi Annan's efforts to try to end the violence and make progress on a peaceful political transition in Syria.
Speaking during the meeting, the Foreign Secretary said:
"I call on all those who've not yet done so to stop buying Syrian oil and cease any involvement with shipping or other related activity with companies that buy Syrian oil. There is no way of sitting on the side lines on this.
"If you don't impose sanctions and implement them thoroughly you are allowing the provision to the Assad regime of the means to go on killing the Syrian people and we see the tragic results every day.
"Thirdly as well as imposing sanctions we can do more to hold the regime to account and support the Independent Commission of Inquiry trying to do that.
"And finally on the humanitarian scene, so rapidly deteriorating, we can all do more. The United Kingdom yesterday announced a doubling of our humanitarian aid, an additional nine million pounds which will deliver emergency food assistance to eighty thousand people a month and shelter to nine thousand people and support for four thousand more refugees outside Syria.
"If all of us at this gathering today resolve to support a Chapter Seven resolution and do so vigorously with Russia and China to impose tighter sanctions from all over the world to act against impunity for crimes and to increase our humanitarian aid then we will have done a good day's work in Paris today."
You can watch his full statement below.
The key aims of the meeting were to:
Fully endorse Joint Special Envoy Kofi Annan's transition plan and the outcomes from the Action Group in Geneva on 30 June;
Urge countries to use their influence on the Syrian government and opposition to engage with Annan and ensure the implementation of a transitional process in line with the principles he has set out;
Agree further ways of increasing pressure on the Syrian regime to comply with Annan's plan and urge action at the UN if it does not;
Emphasise the need for accountability including support for the Commission of Inquiry and evidence gathering;
Call for more sanctions and encourage others to do more on sanctions in line with EU and US action;
Increase support for the opposition. The UK has recently provided a further half a million pounds to Syria's political opposition
Published 6 July 2012