Foreign Secretary attends first meeting of Libya Contact Group
Foreign Secretary William Hague will co-chair the first meeting of the Libya Contact Group in Doha, Qatar on 13 April.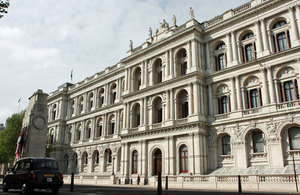 The Contact Group was announced at the London Conference on Libya to co-ordinate support from the International community for the people of Libya. Today's meeting will be co-chaired by the Foreign Secretary and the Qatari Prime Minister.
Prior to the Contact Group meeting, there will be a working lunch with the Interim National Council - who are legitimate interlocutors and have set out a clear vision to meet the legitimate aspirations of the Libyan people.
The meeting will:
reiterate the international community's unity and commitment to implementing UNSCRs 1970 and 1973;
send a clear message that Qadhafi has lost legitimacy and must allow the Libyan people to choose their own future;
be a focal point for contacts with Libyans and take forward further planning to support a Libyan-led political process in line with the principles set out by the Interim National Council;
support humanitarian needs and planning for the rebuilding of Libya;
Speaking ahead of the meeting the Foreign Secretary said:
"We continue to broaden and deepen the international coalition. There will be many Arab nations as well as NATO nations gathered here today; we're expecting the African Union also at this meeting whereas they were not at the London conference a couple of weeks ago. The opposition side in Libya are also becoming steadily better organised."
He said one of the areas the Contact Group will look at is providing a funding mechanism to the opposition-held areas:
"The United Kingdom isn't necessarily donating to that, although we're helping with other non-lethal assistance. We've sent telecommunications equipment that we believe will save lives, so I think we have achieved a great deal in the last few weeks."
Responding to claims that the Coalition forces acted "hastily" on action in Libya the Foreign Secretary said:
"Unless we had acted that day, on that Saturday in March, many thousands of people would have been killed, there would have been a humanitarian crisis costing us a great deal more than this situation with all the destabilising consequences for Egypt and Tunisia as well. So that is why we acted hastily and now we will follow it through to success."
He went on to say that the military mission is defined by the UN resolutions:
"We will at all times keep the legal and moral and international authority that comes from acting within those United Nations resolutions. That imposes some constraints, of course, on military action, and we impose on ourselves the constraint of trying to avoid at all times civilian casualties. But within those constraints we are seeking to protect civilian life, to promote an end to violence in Libya."
"In this meeting today, and the discussions that we will have between the interim national council of Libya and the nations represented here today, also looking forward to a political process in Libya, a transition process to start mapping out what it would look like if and when Colonel Gaddafi departs."
Published 13 April 2011