News story
Foreign Secretary attends EU Foreign Affairs Council
The Foreign Secretary spoke to media in Luxembourg about Libya and migration.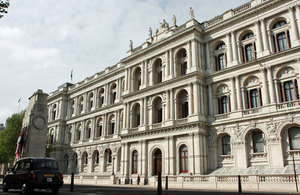 On 20 June 2016 the EU Foreign Affairs Council discussed support for the Government of National Accord in Libya, the Middle East Peace Process, the migration crisis and the Sahel.
Ministers focused on Operation Sophia, the EU Naval Mission targeting illegal migration in the central Mediterranean. The Council agreed to extend Operation Sophia's mandate until July 2017 and to expand it to include training Libyan coastguards and navy and supporting implementation of the UN Arms embargo.
Ahead of the meeting, the Foreign Secretary Philip Hammond spoke to media outside. He said:
The UK has always supported this extension of the Sophia mission. I hope we can get that agreed today.

Then what we need to do is provide strong support to the Government of National Accord in Libya and help it to establish its legitimate control over the territory of Libya, while at the same time helping ourselves to shut down the illegal arms traffic and the people trafficking that is causing such disruption on the Central Mediterranean.
Operation Sophia has saved more than 13,700 lives. We are committed to maximising Sophia's impact by seizing and destroying the traffickers' boats and identifying smugglers for arrest.
Operation Sophia is only one part of our comprehensive approach to tackling the migrant crisis. Other aspects include the UK pledging more than £2.3bn to the Syria crisis – our largest ever response to a humanitarian crisis. Our focus on helping Syrian refugees in the region and helping to provide them with jobs and education means they are not forced to risk their lives by attempting dangerous crossing into Europe.
Published 20 June 2016