Press release
Foreign Secretary at NATO Foreign Ministers meeting
Foreign Secretary Boris Johnson will discuss a range of issues, including Russia, Libya, Syria and Afghanistan, with his NATO counterparts.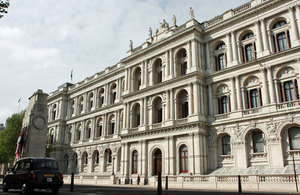 The Foreign Secretary reiterated the UK's commitment to Trans-Atlantic security as he arrived at the NATO Foreign Ministers meeting in Brussels today (6 Dec).
Mr Johnson will, over the next 2 days, discuss progress on goals agreed at the Warsaw Summit, including NATO-EU cooperation, projecting stability beyond Europe's borders, and responding to Russian provocation.
Speaking to media ahead of the meeting, Boris Johnson said:
I'm here at NATO to talk about some of the threats and challenges that this organisation faces and I think what people realise is NATO is more important now than ever before. We need to be very vigilant on our eastern frontier, but also NATO is there to project stability further afield and we're talking today [6 Dec] about the work that NATO is doing in Afghanistan, in Iraq and in trying make sure that we keep the entire perimeter of Europe safe.

It is a very good thing if countries talk about other arrangements for their security and their defence, but that should not in any way undermine NATO, which is the primary piece of defence and security architecture in the West.

It is absolutely vital that everybody steps up to the plate and puts their money where their mouth is and spends 2% of their GDP on defence and of that 2%, spends 20% on new kit and new equipment, which is what we need.
On the second day of the NATO Foreign Ministerial, the Foreign Secretary will discuss NATO's ongoing support to Afghanistan and Ukraine, and the UK's commitment to working towards peace and security.
Further information
Published 6 December 2016