Foreign Secretary: Assad is fast losing the last shreds of his legitimacy
Foreign Secretary William Hague has called for the Syrian regime to stop the violence immediately.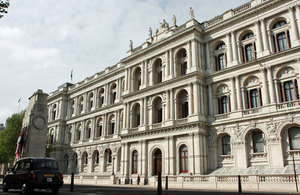 Speaking today the Foreign Secretary said:
"I am appalled by the ongoing repression of civilians by the Syrian Government. The regime's violence continues despite widespread condemnation by the international community. The calls for the violence to stop, including from Syria's neighbours, have not been heeded.
"The Syrian regime has besieged towns and cities across the country, using anti-aircraft guns against civilians, a disproportionate and unacceptable response to peaceful demonstrations. President Assad has so far failed to call back his troops. As long as the killing and detentions continue, his proposed reform package is irrelevant: there is nothing to discuss. The Syrian people are calling for peaceful change; the international community is calling for an immediate end to the violence. Now is the time for President Assad to act in response to these calls. He is fast losing the last shreds of his legitimacy. He must stop the violence immediately."
The Foreign Office advise against all travel to Syria, and British nationals in Syria are advised to leave now by commercial means whilst these are still available.
Published 16 August 2011