Press release
Foreign Secretary appoints new Independent Governors of the Westminster Foundation for Democracy
The Foreign Secretary has appointed Thomas Hughes and Susan Inglish as Independent Governors of the Westminster Foundation for Democracy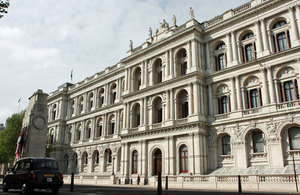 The Secretary of State for Foreign and Commonwealth Affairs Boris Johnson has appointed Thomas Hughes and Susan Inglish as Independent Governors of the Westminster Foundation for Democracy. They succeed departing Independent Governors Ken Caldwell and Bronwen Manby.
Thomas Hughes has been the Executive Director at Article 19 since 2013 and brings with him a long history of working on human rights in a number of organisations, and the experience of implementing an international human rights strategy. Sue Inglish was most recently the Head of Political Programmes at the BBC, following an established career at a number of news networks, and brings with her deep experience of British politics and of democracy abroad.
The Westminster Foundation for Democracy was established in 1992 as an arms-length non-departmental public body. It is run independently of the UK Government though works closely with it. The Foundation's vision is the establishment of legitimate and effective multi-party representative democracy.
Further information
Follow the Foreign Secretary on Twitter [@BorisJohnson(https://twitter.com/BorisJohnson)]
Follow the Foreign Office on Twitter @foreignoffice and Facebook
Published 21 April 2017