Foreign Secretary appalled by Russia and China's decision to veto Resolution on Syria
Foreign Secretary William Hague said Russia and China "have turned their back on the people of Syria in their darkest hour."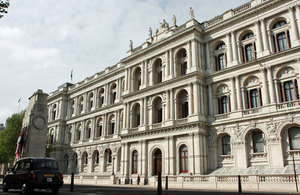 Responding to vetoing of UN Security Council Resolution on Syria the Foreign Secretary said:
"I am appalled by the decision of Russia and China to veto the draft resolution on Syria at the United Nations Security Council today.
"The situation in Syria is desperately serious, and it is getting worse by the day. Earlier this week I met Syrian refugees in Jordan whose homes had been destroyed, whose family members had been killed in cold blood, who had walked for weeks to escape horror in their country, and who have witnessed some of the atrocities and human rights abuses being committed on a vast scale.
"What is happening in Syria is a tragedy for its entire people and a threat to international peace and security. Over 100 people are being killed every day. The UN Mission has been unable to carry out its role because of the violence. The country is on the verge of total collapse as well as civil war, and the conflict is already taking a great toll on Syria's neighbours.
"Addressing crises like these is exactly what the UN Security Council exists to do. It has clear responsibilities. Today we and the great majority of the members of the Security Council tried to ensure that it shoulders those responsibilities, by tabling a resolution under Chapter VII of the UN Charter. We sought consensus and unity, and we argued for decisive diplomatic action to help turn the tide in Syria.
"It was clear that it was no longer enough to simply ask the regime to stop the violence, through non-binding resolutions. They have failed to implement any of their previous commitments. It was time for the UN Security Council to use its collective weight to require the regime to end the violence, and to impose serious consequences if it did not.
"The draft resolution we tabled required an immediate end to the use of heavy weapons, and for all sides to step back from violence.
It insisted on action to create the conditions for a political process, as agreed by the Ministerial Action Group in Geneva on 30th June, which included Russia and China.
"It demanded that the UN Mission could resume its operations unimpeded and in greater safety.
"And for the first time it would have created a trigger for global sanctions if these actions were not taken.
"This course of action was necessary and reasonable. It was called for by the Arab League and by Joint Special Envoy Kofi Annan. It was supported by countries across the Council like India, Morocco and Colombia. It was not a Western proposition - it was what people and governments all over the world wanted to see. And there was nothing in it which would have authorised military action.
"So in the view of the UK the decision by Russia and China to veto this resolution is inexcusable and indefensible. When it came to the time to turn agreements which they have supported into action to end the violence, they stood aside. They have turned their back on the people of Syria in their darkest hour.
"The Syrian refugees I met in Jordan this week were desperate, and despairing. They will feel abandoned and betrayed by this unjustifiable veto. I believe Russia and China will pay a serious price in the Middle East diplomatically and politically for taking this position. Many observers will conclude that they have put national interest ahead of the lives and rights of millions of Syrian people. And they will be held increasingly responsible for worsening the crisis in Syria. But more importantly their action means the UNSC cannot perform the function for which it was designed.
"We will not give up our efforts to enable the UN Security Council to live up to its responsibilities.
In the meantime we will seek new sanctions from the European Union and our allies to increase pressure on the regime, and we will consult with our partners in the Friends of Syria group on how they can do so as well.
"We will continue to support Kofi Annan's plan which offers the best hope of ending the violence. That is why we support his recommendation that the mandate of the UN Mission in Syria be rolled over for a final thirty days, to offer the regime one last opportunity to live up to its commitments.
"We will deliver our increased humanitarian aid to the Syrian people, and we will give urgent consideration to how we can increase our support to the Syrian opposition. And we will continue our work to help document and try to deter human rights violations and atrocities. We are monitoring extremely closely the regime's possession of chemical and biological weapons and any attempt to use them.
"Today's veto does nothing to change the fact that the Assad regime is doomed. My message to all those in the regime is that they will be held accountable for their actions. The pressure on them will not relent for an instant in spite of the veto today. We will do all that we can do to end the killing and will rule nothing out in the future in these efforts."
Published 19 July 2012