Foreign Secretary "appalled" at situation in Yemen
Foreign Secretary William Hague has condemned the violence in Yemen, and reiterated the UK's call to President Saleh to sign the peace agreement offered by the Gulf Cooperation Council.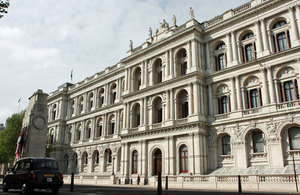 Speaking after chairing a meeting of COBR this afternoon the Foreign Secretary said:
"I am appalled by the reports of yet more deaths in Sana'a. I absolutely condemn this latest violence. The agreement brokered by the Gulf Cooperation Council offers the chance for peaceful progress in Yemen and therefore we urgently reiterate the United Kingdom's call to President Saleh to sign the agreement, allowing for a peaceful transition and preventing further bloodshed.
"In light of the deteriorating situation, I have today decided to reduce the staffing of our Embassy to a level sufficient only to work on the most pressing and vital British national interests in Yemen, by temporarily removing four members of our staff.
"We have been warning British Nationals to leave Yemen for months. It is now apparent that, should violence in Yemen become more widespread, it would be extremely difficult for the British Government to assist its nationals in Yemen in reaching safety. I therefore reiterate our clear advice that British Nationals should not remain there and instead should leave Yemen immediately while commercial flights are still operating. I cannot stress this too strongly."
Published 26 May 2011