Foreign Secretary appalled at continuing deaths in Syria
Foreign Secretary William Hague has spoken after further violence in Syria, despite the Syrian Government agreeing last week to the Arab League's plan to stop the violence.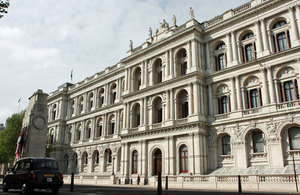 Speaking today the Foreign Secretary said:
"I am appalled by the continuing deaths in Syria. It is deplorable that despite making a commitment to the Arab League to end the violence last week, the Syrian Government has escalated the repression and many more people have died as a result.
"I call on the Syrian regime to lift the siege of Homs and allow in international aid and relief efforts, to withdraw all Syrian forces from the towns and cities of Syria in accordance with its agreement with the Arab League, and to implement all other aspects of the agreement in full.
"I call on the Arab League to respond swiftly and decisively to the Syrian regime's failure to implement the agreement so far. The international community look to these Arab nations to show decisive leadership to address this crisis in their midst. We welcome the efforts by the Arab League so far and will continue to support them in their attempts to mediate an end to violence in Syria.
"However these recent developments show once again that no progress is possible in Syria until President Assad steps aside and allows others to take forward the political transition the country now desperately needs."
Published 8 November 2011