Foreign Secretary answers questions on Syria via Twitter
In advance of the third meeting of the Friends of Syria in Paris on 6 July, Foreign Secretary William Hague answered your questions about the UK's policy towards Syria live via Twitter.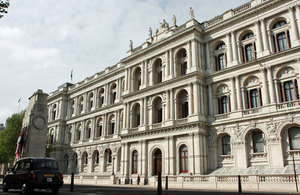 On 6 July many countries will meet in Paris for the third Friends of Syria meeting aimed at supporting Joint Envoy Kofi Annan's efforts to try to end the violence and make progress on a political transition in Syria.
In advance of the meeting, the Foreign Secretary answered your questions on the UK's policy towards Syria via Twitter live on 5 July. Questions were submitted to the Foreign Secretary using the hashtag #askFS.
The Foreign Secretary said:
"Nearly a hundred nations will come together in Paris this Friday at the meeting of the Friends of Syria. We will be focused on increasing the pressure on the regime to stop the killing, on ensuring that the Annan Plan for a political transition is implemented, and on alleviating the appalling humanitarian situation in Syria. These efforts are an absolutely top priority in British diplomacy."
You can read the Q&A below.
Thank you for all the #AskFS questions. That is all I have time for today

– William Hague (@WilliamJHague) July 5, 2012
@ketydc You're not forgotten. Tomorrow 100 countries meet in Paris & I hope they'll agree to coordinate stronger action to help you #AskFS

– William Hague (@WilliamJHague) July 5, 2012
.@VireshJoshihasn't worked so far but best way of avoiding more massacres is to do everything we can to support peaceful transition #AskFS

– William Hague (@WilliamJHague) July 5, 2012
.@kelo3adi no option is ruled out. But military intervention wld require international agreement and very large scale force #AskFS #Syria

– William Hague (@WilliamJHague) July 5, 2012
.@AllanDuncan101 stability would return over time, provided rights of minorities fully respected #AskFS #Syria

– William Hague (@WilliamJHague) July 5, 2012
.@hpfelter we've already provided £8.5 million of aid. A further announcement will be made later today #AskFS #Syria

– William Hague (@WilliamJHague) July 5, 2012
.@SketchBlog we're not. We're standing up for #HumanRights, international law and rights of Syrian people #AskFS #Syria

– William Hague (@WilliamJHague) July 5, 2012
.@nicklocatelli we're clear: successful political transition precludes Assad's involvement #AskFS #Syria

– William Hague (@WilliamJHague) July 5, 2012
.@KreaseChan depends on whether any progress is made on #Annan plan. Sustainable UN presence requires cessation of violence #AskFS #Syria

– William Hague (@WilliamJHague) July 5, 2012
.@Khalil_alagha we're working with them. We support stronger action by Friends of #Syria. if no progress made will seek strong UNSCR #AskFS

– William Hague (@WilliamJHague) July 5, 2012
.@Priapus_D we're working with those seeking a peaceful transition #AskFS #Syria

– William Hague (@WilliamJHague) July 5, 2012
.@MMore_ our strong preference is to work with Russia & China but if Annan plan fails no option is ruled out #AskFS

– William Hague (@WilliamJHague) July 5, 2012
.@Hevallo Yes. All Syria's minorities must be protected - this is our constant message to the opposition #AskFS

– William Hague (@WilliamJHague) July 5, 2012
.@raphcouscous we absolutely believe #Assad has to go. It would be in best interests of everyone as part of a peaceful transition #AskFS

– William Hague (@WilliamJHague) July 5, 2012
.@tweetingolivia a transitional gov as agreed at Geneva supported by UN, and a peaceful transition to democracy #AskFS #Syria

– William Hague (@WilliamJHague) July 5, 2012
.@freeCritic2000 they have failed so far but it is right to keep trying. All alternatives are much longer and bloodier #AskFS #Syria

– William Hague (@WilliamJHague) July 5, 2012
.@Mou2amara Annan plan best route to peaceful solution, if given full backing of Russia and China #AskFS #Syria

– William Hague (@WilliamJHague) July 5, 2012
No. We enforce the EU arms embargo "@evakatrina: Is the UK arming the opposition?" #AskFS #Syria

– William Hague (@WilliamJHague) July 5, 2012
.@MbbLibya It has characteristics of both. sadly it is descending into civil war and situation becoming more urgent #AskFS #Syria

– William Hague (@WilliamJHague) July 5, 2012
.@Sharkiya last year we helped to force them out of the race by lobbying other countries to come forward #AskFS #Syria

– William Hague (@WilliamJHague) July 5, 2012
.@BSS_Syria EU has an arms embargo & extended this to insurance which inhibited a Russian ship recently #AskFS #Syria

– William Hague (@WilliamJHague) July 5, 2012
.@JoelBubbers No. #Assad clinging on would condemn any transition to failure & not be accepted by Syrians #AskFS

– William Hague (@WilliamJHague) July 5, 2012
@whatkatie_did No shortage of grounds. But no agreement on it at @UN and best solution for all is peaceful transition #AskFS #Syria

– William Hague (@WilliamJHague) July 5, 2012
.@AlOraibi humanitarian corridors wld need strong support from neighbouring countries & large scale military force #AskFS #Syria

– William Hague (@WilliamJHague) July 5, 2012
@forumeditor We have made no offer of immunity to #Assad #AskFS #Syria

– William Hague (@WilliamJHague) July 5, 2012
Online now, ready to take your questions on #Syria. Make sure you use #AskFS

– William Hague (@WilliamJHague) July 5, 2012
Published 5 July 2012